Ozzy's Blog
Hello, I 'm Ozzy. This is me. I'm a Cockerpoo. Apparently, that is a mixture of a Cocker Spaniel and a Poodle and means that I got the best bits from both types of dog. Haha! Handsome aren't I? This is me now. I'm 5 and on my 5th birthday I started Woodingdean Primary. The same as you guys in a way. But I had a special job to do. I was going to be a Reading Dog.
Summer Term 2018
Week Beginning 30th April 2018
Hi everyone,
I hope you are all well and managing to stay cool in this hot spell. I find digging a shallow hole in the shade and lying down in that helps! Just an idea. It did help me today in Reading Hub. We sat out side Mrs Woodford's classroom as it was too nice to be indoors. As usual, it was blissful to listen in to the littler humans reading to our big, important Reading Ambassadors. Those Year 6 humans are so fabulous now at helping and supporting the younger readers and everyone has such a great time sharing books.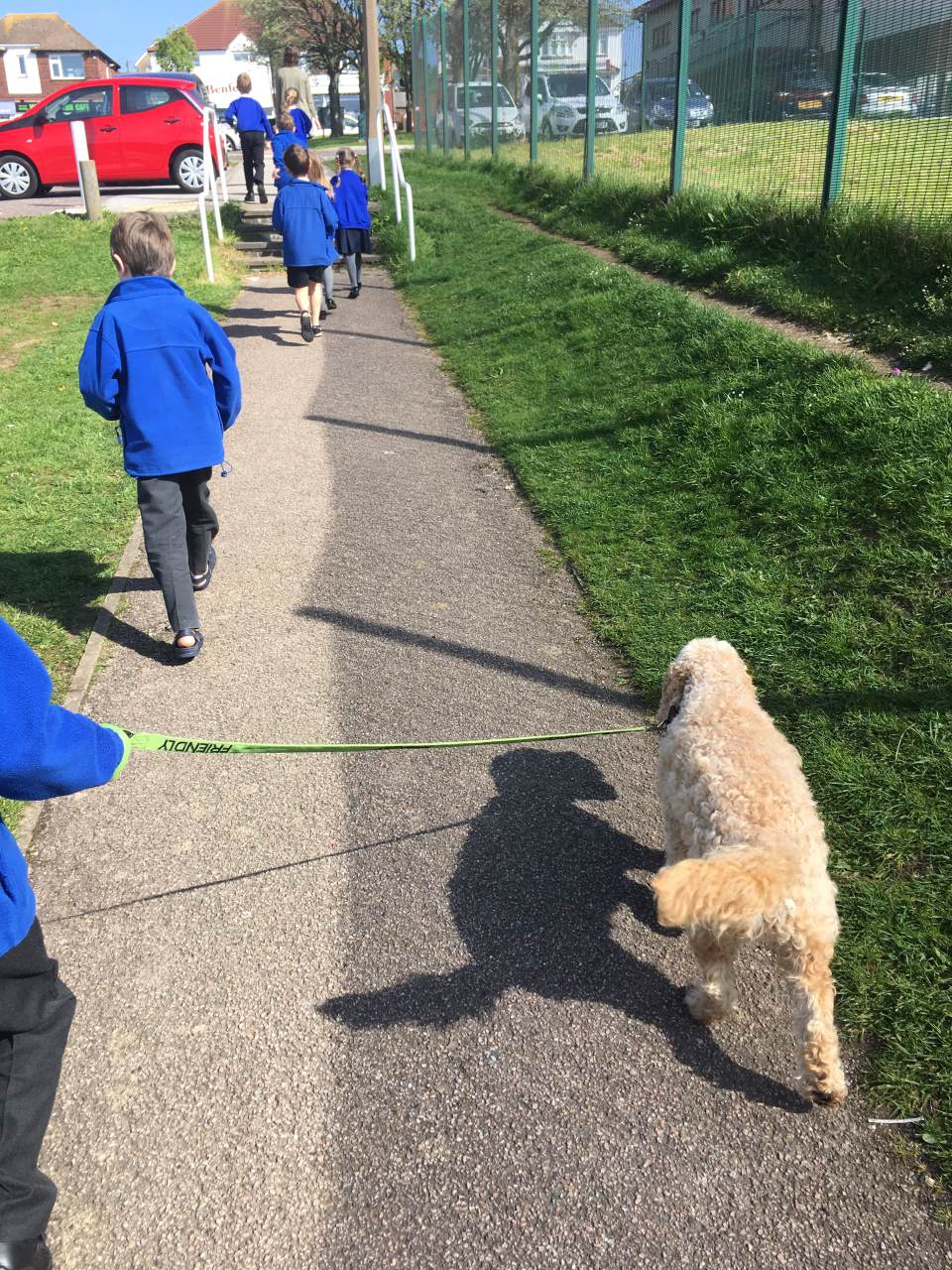 Talking of which, we had a fabulous trip to the library this week too. There were a great crowd of us who walked over in the sunshine and were met by our grown up Reading Ambassadors. There are so many exciting books in that place. There just wasn't enough time for me to look through them all and listen to all of them. Some of the little humans really enjoyed sharing their stories.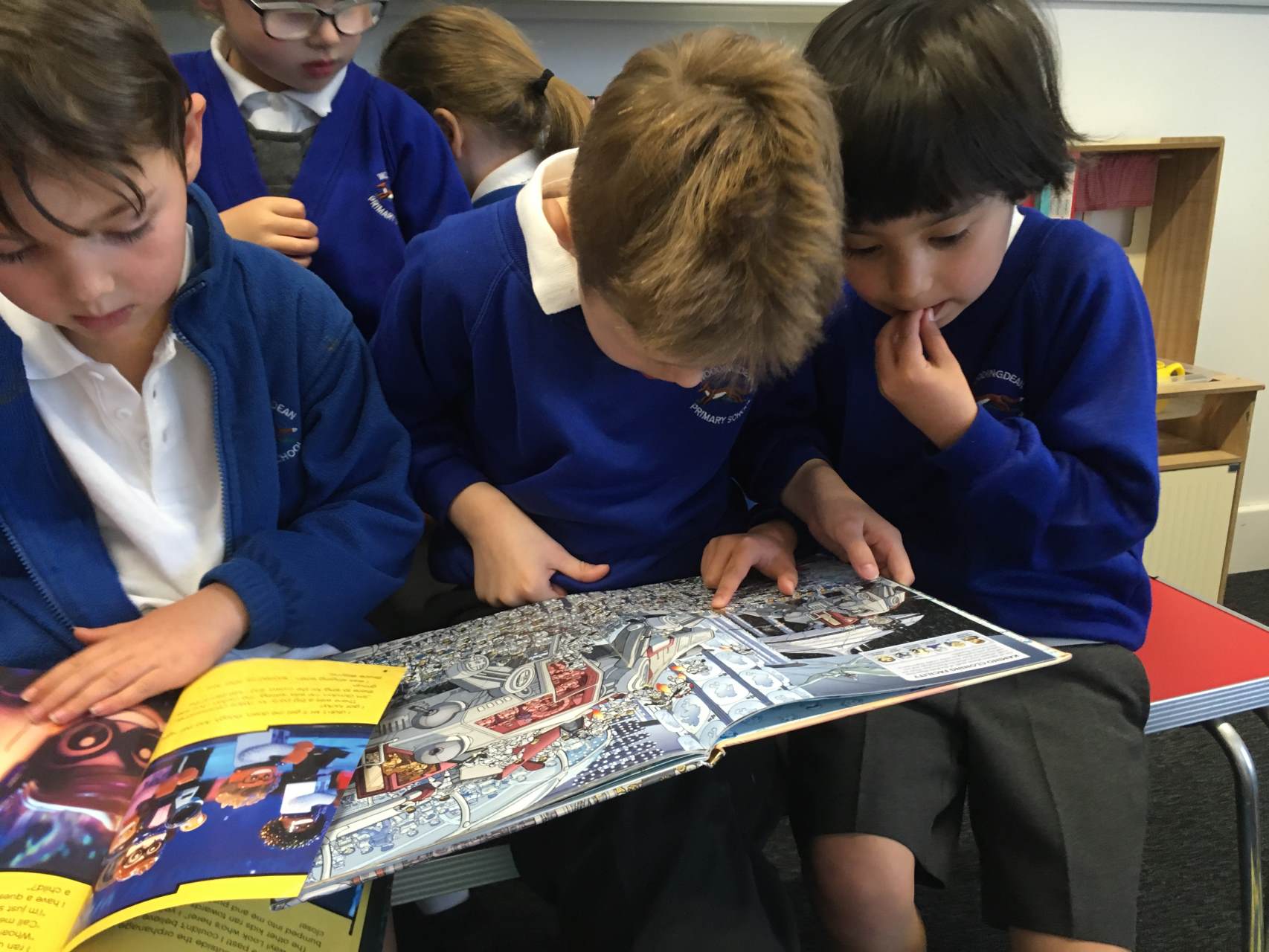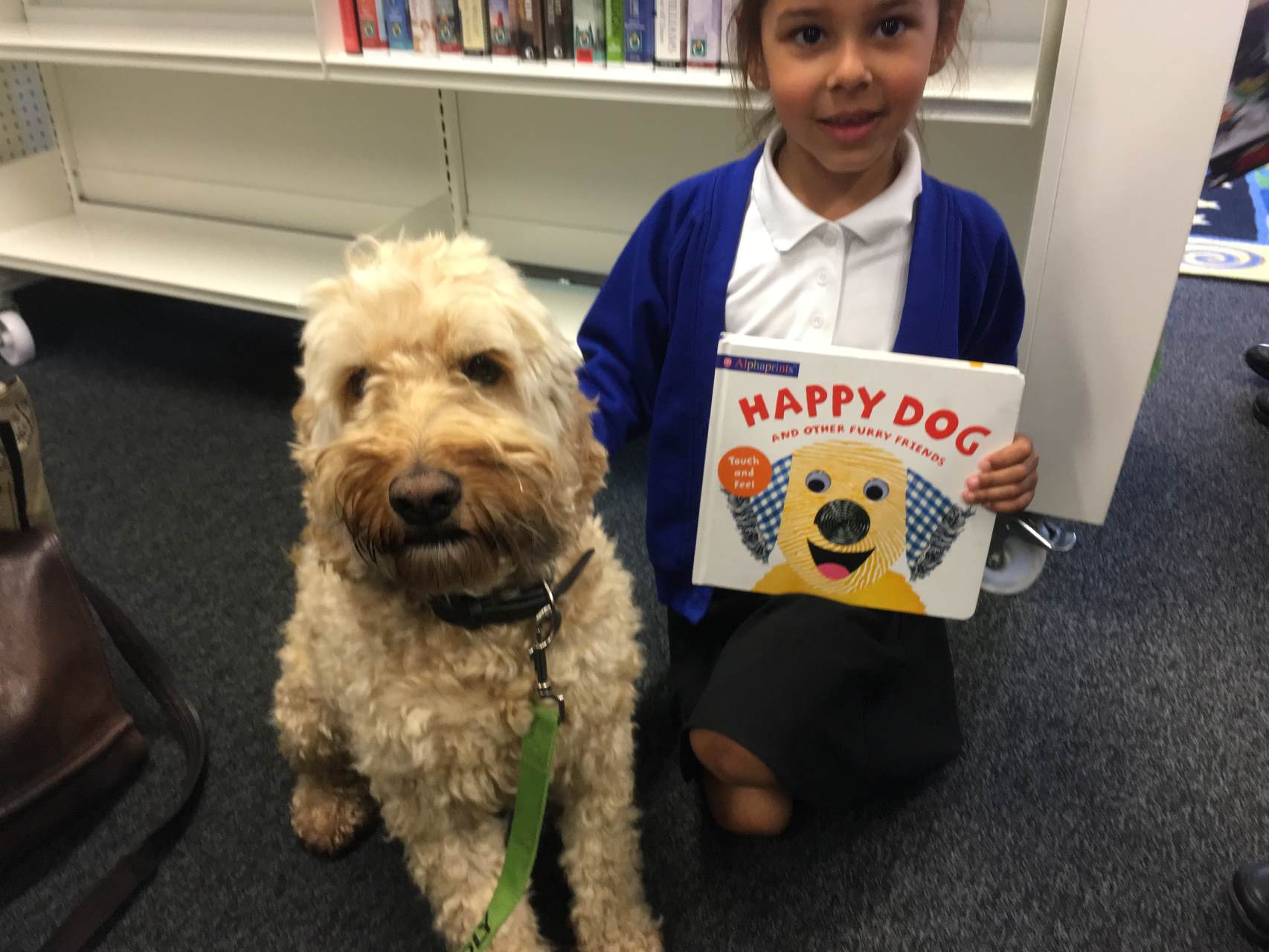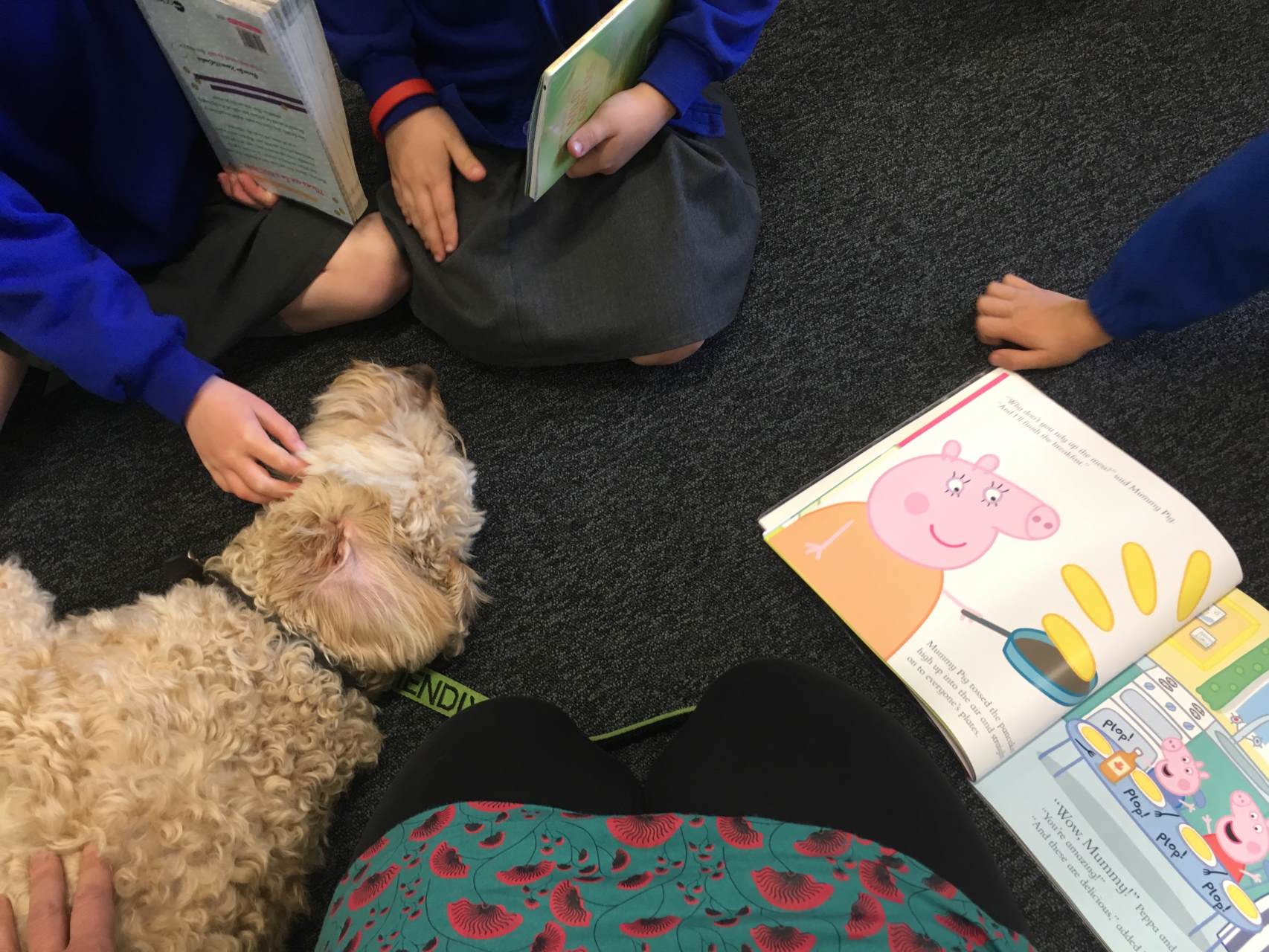 Not sure if it was the heat this week but I was feeling a little bit under the weather so my owner took me to 'The Vet'. I have to admit, I am a bit of a wimp when it comes to visiting that place but she tells me that they are good and kind and will make me better. They did all sorts of poking and prodding, listening to my chest with a 'stethoscope' to make sure my heart is ok. I was glad when it was over and they gave me a treat! That's more like it. Not so bad after all.
Happy reading. High Five Ozzy
Week Beginning 16th April 2018
Hooray!! Summer finally feels like it is on its way at last and that means one thing to us dogs…yep..that's right...more walks !!
It is so nice to feel the warm sun and I've noticed both the little people and big people seem much chirpier and they are even reading outside when they can. That is my absolute favourite thing to do. Hopefully I will get some great stories read to me this term. I do love it when the little people read to me.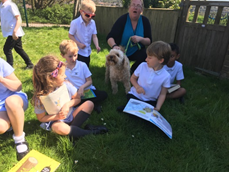 The biggest treat is on a Wednesday when it is Ozzy's Hot Seat. My paws are worn out from high-fiving them all for their excellent reading. They are all getting so good at reading. I can only think it is all the practice they are getting at school and home.
It does seem a bit odd how quickly the weather has changed though. It feels like only yesterday I woke up and went outside to all this freezing cold powdery stuff. That was fun too, I have to admit. It was also really weird because I couldn't go to work for a couple of days. I think the little people were too busy throwing the white stuff at each other and sliding down hills on brightly coloured shiny trays. I loved racing after my ball, smashing into a big drift of the stuff and then digging furiously to find my ball again.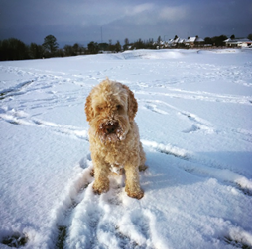 I could do that forever. When I got in from my walk that first day, my legs were completely weighed down by giant balls of the stuff and it took ages for them to go. Funnily they turned into my favourite drink in a puddle on the floor so that was a bonus! I then spent the rest of the day buried in a brilliant book. I was happy when we could finally go back to work though and I was especially pleased to see everyone –even more than normal.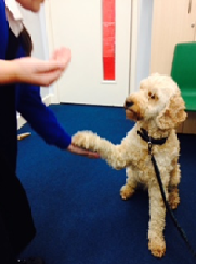 I can't believe I have been working as a Reading Dog at Woodingdean Primary for almost two years now. I know that is what I am now as my human keeps telling me. She keeps saying 'behave yourself Ozzy, you're a Reading Dog now, you have responsibilities'! Not sure what that all means. But I do love my job. I started on my fifth birthday, like so many of our little people. And now I'm nearly 7 years old! It is brilliant to see all my friends coming into school on a Monday morning at the gate, even if it is wet and windy, and they always give me a big smile, a wave and sometimes I even get a tickle behind my ears.
I hope to see a few new faces on Ozzy's Hot Seat this term. Happy reading everyone.
High Five
Ozzy